Homebrew Wind Power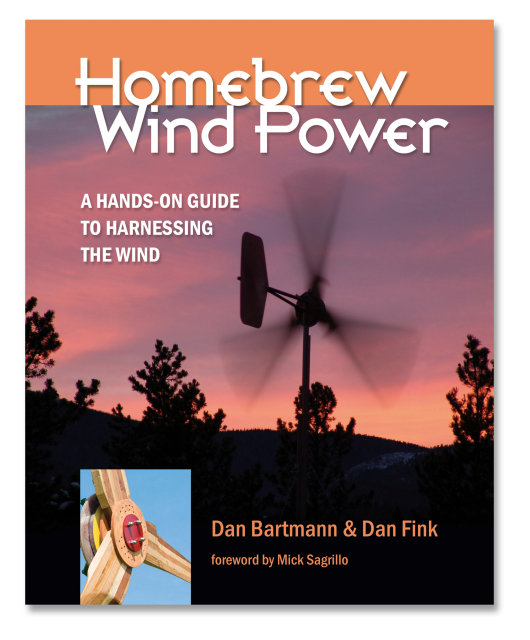 Download Table of Contents
Download hi-resolution cover image
Download book press release
Homebrew Wind Power
A Hands-on Guide to Harnessing the Wind
By Dan Bartmann and Dan Fink

Foreword by Mick Sagrillo
320 pages, soft cover, 8 x 10 inches, 395 illustrations

ISBN 978-0-9819201-0-8

Published by Buckville Publications LLC, Masonville, CO

Have you ever wondered how wind turbines work and why they look like they do? Are you interested in adding wind power to your off-grid electric system, but have been put off by the high cost of equipment and installation? Well, now you can build and install your own wind turbine!
Harnessing the wind can be a tricky business, but in this groundbreaking book the authors provide step-by-step, illustrated instructions for building a wind generator in a home workshop. Even if you don't plan on building your own turbine, this book is packed with valuable information for anyone considering wind energy. It covers the basic physics of how the energy in moving air is turned into electricity, and most importantly, will give you a realistic idea of what wind energy can do for you--and what it can't.
Also -- be sure to take a look at our new Homebrew Wind Power Blueprints! A perfect companion to this book, these 3D poster-sized blueprints greatly simplify the construction of a 10-foot diameter wind turbine for the home
builder.
Editorial Reviews
"A well-crafted blend of theory and practical information for all who want to build a quiet, efficient, and economical wind turbine to achieve greater energy independence and reduce their carbon footprint. These guys know their stuff and know how to convey it in a clear, concise, understandable, and humorous fashion." --Dan Chiras, PhD, author of Power from the Wind, The Homeowner's Guide to Renewable Energy, The Solar House, Green Home Improvement, and more.
"If you've ever thought the wind could be as productive as it is annoying, get this remarkable book, apply its clear-cut principles and procedures, and brew up a wind turbine. In their clever and amusing way, Dan and Dan show you how to power your house with the same forces that rattle the windowpanes. Buy it--it's the only book of its kind on planet Earth!" --Rex Ewing, author of Power with Nature, Got Sun? Go Solar, Hydrogen-Hot Stuff, Cool Science, and more.
"The Otherpower Dans and their crew learn more in their sleep about building good wind generators than the rest of us learn in the daylight. If you want to be able to build simple, robust, and productive wind turbines awake or asleep, buy this book!" --Ian Woofenden, Senior Editor, Home Power Magazine; NW and Costa Rica coordinator, Solar Energy International, wind energy abuser.
"Finally, a detailed-some would argue exhaustive-treatment of how to build your own backyard wind turbine"..."This is a fun book. It's well written and informative too. If you plan to build your own, this is the one to have." -- Paul Gipe, author of Wind Power: Renewable Energy for Home, Farm and Business, Wind Energy Comes of Age, and more; 1988 Person of the Year by the American Wind Energy Association, Pioneer Status from the World Renewable Energy Congress. You can read the entire review HERE.
"Dan Bartmann and Dan Fink have done a magnificent job in the writing and production of Homebrew Wind Power. They've created a book, written with a vast amount of knowledge and experience in the subject, loaded it with photographs that clearly show the processes involved and enabled any wind energy amateur to successfully build his or her first wind turbine and enjoy the rewards of living off-grid. The writing style vividly demonstrates that The Two Dans enjoy what they do and while they take the subject of wind energy very seriously, they never take themselves too seriously. They have fun building wind turbines and it shows in the book." -- Larry Barr, publisher and editor-in-chief of the Energy Self-Sufficiency Newsletter. You can read the entire review HERE.
"If this was a common book for school kids to write book reports on, there would be very few wind power scams. It might even inspire you to build a fully equipped workshop or to learn welding. This is the kind of book that needs to be donated to school libraries and science classrooms across the nation." -- Peter Parsons, author of the book "Slashing Home Energy Costs." You can read the entire review HERE.
"There are some good books out, but most of them either display mostly giant corporate machines or leave out vital information. As with any technology there are always a few people who want to do it themselves from start to finish, if they can. Those people have largely been left out of new developments since the excellent Hackleman books of the late 70s and early 80s. Now with this new book, the situation has improved considerably. Homebrew Wind Power shows, in a step-by-step manner, exactly how homeowners can build workable wind generators from scratch." -- Michael Riversong, author of Design Ecology and more. You can read the entire review HERE.